Hi there! My name is Mariah Liisa, and I'm a graphic designer with soul (No, really, I drive a Kia Soul!).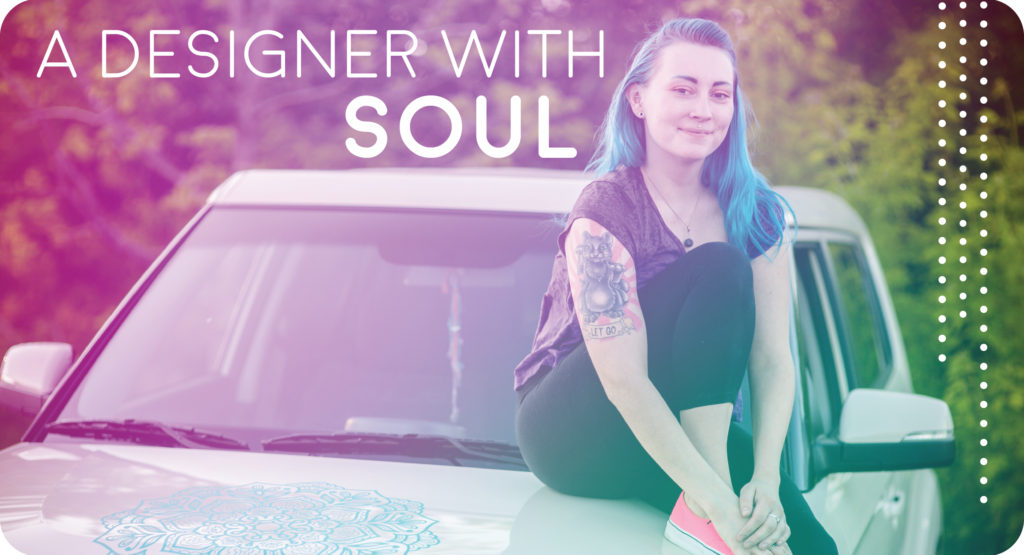 I am passionate about design, branding, and visual aesthetics.
Here at Mariah Liisa Design LLC, I work as a freelance graphic designer. I love to work with small businesses, entrepreneurs, start ups, and creatives to develop and maintain a strong brand identity and visual presence. Located in the beautiful city of Madison, Wisconsin, I work with many local businesses and self employed folks.
[button color="purple" size="medium" type="pill" button url="http://mariahliisa.com/what-i-do/"]Learn more about WHY branding is important here!![/button]
In 2012 I proudly earned my Bachelor of Fine Arts from the Milwaukee Institute of Art and Design, majoring in Illustration and minoring in Graphic Design. I have worked as an in-house graphic designer, started my own design business, been featured in several local art shows, and am familiar with Madison's community of freelancers.
[button color="purple" size="medium" type="pill" button url="https://www.linkedin.com/in/mariahliisa"]Find me on LinkedIn![/button]
These days I have been enjoying the freelance lifestyle, which allows me to stay flexible with my work, and provides me with numerous ways to connect with my clients and my community.
 A few fun things about Mariah Liisa
My middle name, Liisa, utilizes the traditional Finnish spelling.
I was born into a family of artists; I have been honing my creative skills from a young age!
I love to do yoga, ride bikes, take hikes, and my new active hobby: Indoor Cycling!
I'm super passionate about health and wellness.
I'm a PC! Growing up my father built computers, and I was surrounded by them from a young age. Internet access as a teenager opened up a world of possibility for inspiration, discovery, and for sharing my work.